Unrecognized religious places should be closed down: Kerala High Court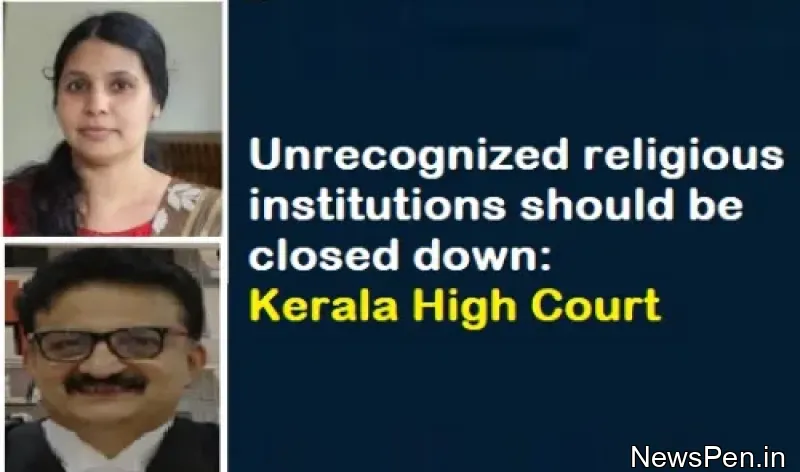 The high court's verdict the other day was a much-awaited verdict by the Kerala public. Because by setting up 10 and 20 places of worship within a radius of one kilometre, destroying the tranquillity of the people has become unbearable. Most of these were illegal constructions.
It has become a common sight to build and raise places of worship even in places where believers are not staying.
It is in this context that such a historic verdict comes as a relief to the people.
There is a story of a woman's determination and fighting spirit behind achieving this verdict. Annie M George, a resident of Thottekkad in Nilambur Amarambalam panchayat, is the woman who is synonymous with determination.
A building built in commercial purpose very close to her house suddenly transforms into a Muslim place of worship. Realising that this would hamper the peace of their family life, they first lodged a complaint with the panchayat and the local police station.
The result was disappointment everywhere. Later, a complaint was lodged with the district collector and the complaint was suppressed there as well. By then, Annie had started a legal battle in the local courts.
From there, on the recommendation of the local advocate, a lawyer from Manjeri Kavanur, who is arguing a fierce case in the high court, was handed over as an advocate. The man who was arguing the sensational case of prominent personalities, including the advocate MLA, who took the money and the lawyer, succumbed to someone's pressure and sabotaged the case in connivance with the opposing parties.
Realizing betrayal, Annie went ahead with her complaints again. A new lawyer was appointed in the High Court. Thus, having survived a five-year-long legal battle, attacks, intimidation and isolation by opposing parties, a historic verdict has been achieved for the public in Kerala.
The people of Kerala heard and discussed through the judgment of the High Court, the reflection of the sacrifice and determination of purpose of Anne, a native of Nilambur Thothekkad.
Annie M George fought alone and achieved her goal without giving up in the face of pressure.
Justice P V Kunhikrishnan's verdict to regulate places of worship is a women power behind it.
News by: NewsPen

Added on: 29-Aug-2022
DISCLAIMER: The news content above is submitted by Newspen users and also scrapped from external websites.