Muslim youth arrested for attempting to incite communal riots by burning Holy Bible in Kerala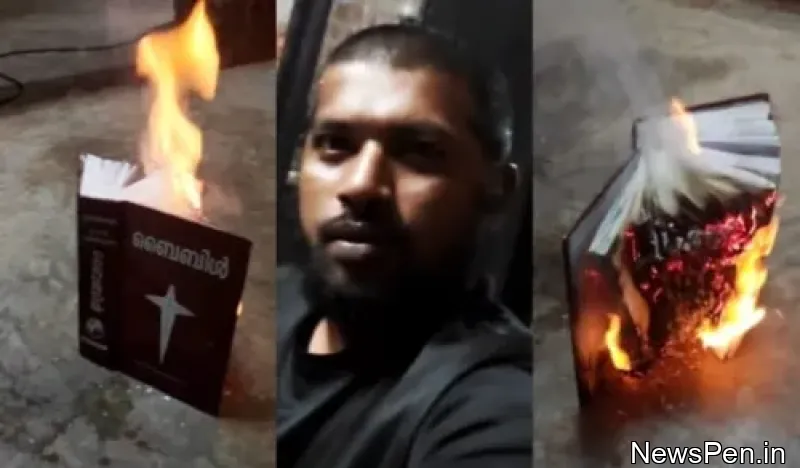 Kasargod: A native of Kasargod has been arrested for sharing a video on social media in which he is seen burning the Bible, the holy book. Police have arrested Muhammed Mustafa (34), a native of Erinjipuzha in Muliyar. Mustafa is the accused in the case who removed the figures from the lawn prepared by the hospital staff as part of christmas celebrations at the primary health centre at Muliyar in Kasargod in December last year.
He shared a video on his YouTube channel KL47 in which he can be seen pouring a complete Bible of coconut oil on the floor and then setting it on fire from the stove.
He burned the holy book with the words that he was burning the Bible in protest against the burning of the Quran in Paludan, Denmark. Paludan is a right-wing political leader in Denmark.
Ever since the video surfaced, there has been a strong demand for strong action against him for inciting communalism by burning the holy book of Christians in a democratic and secular India. The Bedakam police arrested him after the incident sparked a controversy.
He has been booked under IPC sections 153A (provocation with intent to provoke breach of the peace) and 295A (intentional insult with intent to provoke breach of the peace and tranquillity of religion).
The accused was produced before the Hosdurg court and remanded in judicial custody for two weeks.
Earlier, he was acquitted of all charges of being mentally ill in the case of removing the figures from the Christmas lawn.
News by: NewsPen

Added on: 31-Jan-2023
DISCLAIMER: The news content above is submitted by Newspen users and also scrapped from external websites.