Open call death threat to Hindus and Christians in Kerala by Islamic Ideologic political party PFI using a child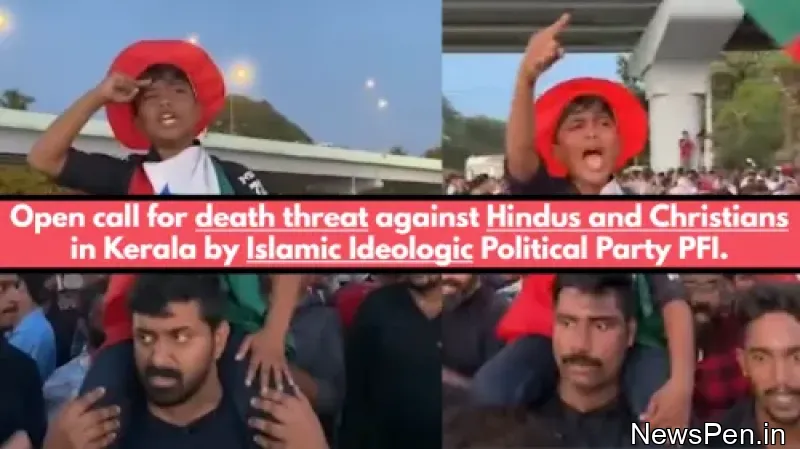 A distressing video has surfaced on social media showing a kid shouting anti-Hindu and anti-Christian slogans at a protest in Kerala's Alappuzha on May 21, 2022.
The footage was allegedly filmed at the Popular Front of India's (PFI) 'Save the Republic' protest on Saturday, according to reports. Child was heard saying death threats to Hindus and Christians and other hatered slogans.
Two people were detained on charges of inciting communal hatred under Section 153 (A) of the Indian Penal Code (IPC).
Ansar Najeeb, a resident of Erattupetta in Kottayam, and PFI Alappuzha district president Navas Vandanam were identified. The three were also charged with inciting religious emotions (IPC 295A) and criminal intimidation (IPC 506).
PFI leader Yahiya Thangal claimed, "We are going to have a very strong campaign against the RSS. The Save the Republic campaign will continue till August this year. After Saturday's rally in Alappuzha, a similar event would be held in Kozhikode on August 6."
News by: Enhance let Added on: 25-May-2022
DISCLAIMER: The news content above is submitted by Newspen users and also scrapped from external websites.