Urdu teacher arrested for sexually assaulting student in Malappuram The second incident within days at the same school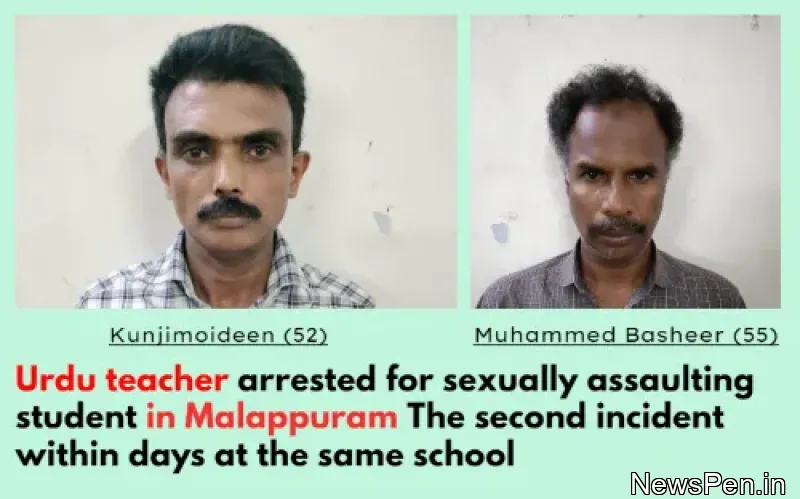 MALAPPURAM: An Urdu teacher has been arrested for sexually assaulting a 13-year-old boy. Malappuram Govt. The arrested has been identified as Kunjimoideen (52), an Urdu teacher at boys' high school and a native of Munduparambu. The accused has been an Urdu teacher at the Malappuram Government Boys High School for the past 12 years. The case is that the child studying in the seventh standard was sexually abused several times.
Based on the child's statement to the counsellor of the school where he was studying, he informed the Malappuram Childline. Following this, a case was registered after recording the statement of the child at his house.
Meanwhile, another teacher was arrested a few days ago for allegedly sexually assaulting a 13-year-old boy several times. Muhammed Basheer (55), son of Alavi of Shahimahalwaliyaparamban House in Valiyad, a teacher and a native of Valiyad, was arrested at that time.
According to the complaint, Basheer sexually abused the 13-year-old on multiple occasions between 2019 and December 24, 2022. Without the consent of the child's parents, the child was abducted and sexually assaulted by showing an obscene video in the back side of the house of Basheer's neighbour in Chemmankadavu in Malappuram. The child has also been given money several times as a reward. Basheer was arrested on the basis of a complaint that he had committed serious sexual assault on the child.
Basheer's sexual assaults came to light when the child told the class teacher about what had happened and then conducted childline counselling.
News by: NewsPen

Added on: 18-Feb-2023
DISCLAIMER: The news content above is submitted by Newspen users and also scrapped from external websites.