Attempt to steal gold by duping smuggling gangs; Three Persons Including Woman Arrested In Karipur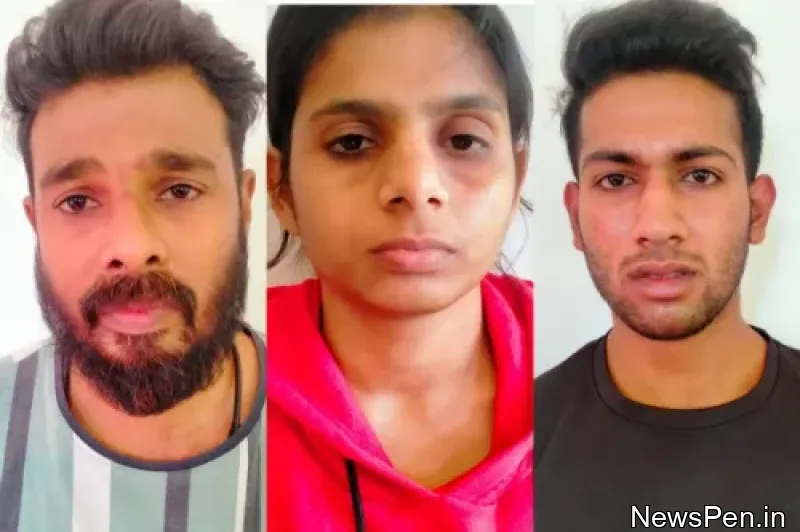 MALAPPURAM: The police have arrested a woman who was smuggling gold through karipur airport and a gang that came to snatch the gold. The arrested have been identified as Deena (30), a native of Sulthan Bathery, Muhammed Sahad (24) of Nallalam in Kozhikode and Muhammed Jamnaz (36) of Vaniyamkara in Kozhikode.
The incident took place on December 22. She arrived at the Deana airport from Dubai at 8.30 am. They also had 146 grams of gold worth Rs 8 lakh in their possession. Deena had illegally brought the gold on behalf of Subair, a native of Wayanad.
However, Deena, who has smuggled gold in the past, planned to steal the gold this time in connivance with the gold smuggling gang and distribute it. Muhammed Sahad, a native of Nallalam in Kozhikode and Muhammed Jamnaz, a native of Vaniyamkara in Kozhikode, had come to the airport to snatch the gold from Deena.
At the same time, after evading customs and duping the gang that had come to the airport to receive the gold, the police chased and nabbed Deena's vehicle as she got into the car along with the robbers and was speeding out of the airport. Malappuram district police chief S Sujith Das IPS received a tip-off that the three accused were nabbed by the Karipur police along with their vehicle near the entrance of the airport.
The gold concealed in the luggage was recovered after a long interrogation of Deena and her team, who were taken into custody. After recording the arrest, the accused were produced in the court along with thondi and remanded in judicial first class court in Manjeri for 14 days. Police said they have intensified the search for the other accused involved in the incident.
In the last four months, the police have already arrested three gangs of robbers who had come to karipur airport to steal the gold smuggled. So far, 87 gold smuggling cases have been seized by the police in Karipur.
News by: NewsPen

Added on: 27-Dec-2022
DISCLAIMER: The news content above is submitted by Newspen users and also scrapped from external websites.