A case of raping and impregnating a minor daughter; His father, a madrassa teacher, was sentenced to rigorous imprisonment till death and fined Rs 6.6 lakh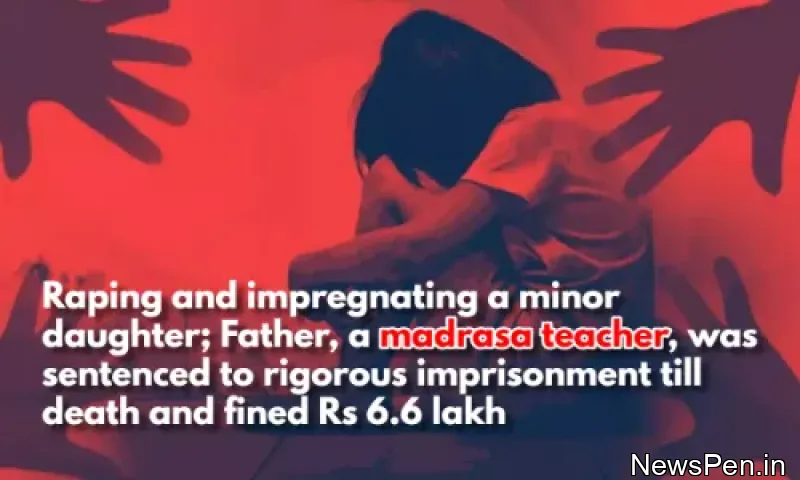 MALAPPURAM: A madrassa teacher has been sentenced to rigorous imprisonment till death and a fine of Rs 6.6 lakh in a rape case in Malappuram. The father, a madrassa teacher, has been booked for allegedly raping his 15-year-old minor daughter several times and making her pregnant. The sentence was pronounced by the Manjeri POCSO fast track court. He will have to pay a fine of Rs 6 lakh 50,000 along with three life sentences.
The first incident related to the case took place in March 2021. When her mother was not at home, he dragged the child who was studying in the room and raped her. He threatened to kill her mother if she disclosed it. The girl was raped several times. Then she became pregnant. The Vazhikkad police had registered a case in 2021 for sexually abusing a 14-year-old girl.
The accused, who was working as a madrassa teacher, later went abroad for a job. However, he lost his job due to the spread of coronavirus and returned home. Schools have also stopped functioning after the lockdown was announced in the country. With this, the child also went home. This was followed by a series of abuses.
More on the news: Judicial news | പ്രായപൂർത്തിയാകാത്ത മകളെ ബലാൽസംഗം ചെയ്ത് ഗർഭിണിയാക്കിയ കേസ്; മദ്രസാദ്ധ്യാപകനായ പിതാവിന് മരണം വരെ കഠിന തടവും 6.6 ലക്ഷം രൂപ പിഴയും; കേസിൽ നിർണ്ണായക തെളിവായത് ഡി എൻ എ പരിശോധന ഫലം - MarunadanMalayalee.com
News by: NewsPen

Added on: 31-Jan-2023
DISCLAIMER: The news content above is submitted by Newspen users and also scrapped from external websites.